Mathura-Virandavan Tour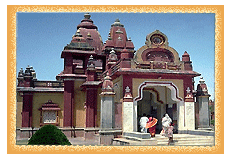 Duration:
Same Day
Destination:
Delhi - Mathura - Vrindavan - Delhi.
The city of Mathura in Uttar Pradesh , the nucleus of Brajbhoomi, is located at a distance of 145 km south-east of Delhi and 58 km north-west of Agra .
Lord Krishna -
He is easily the most popular person here. Every square foot of Mathura-Vrindavan is wrapped in timeless devotion to Lord Krishna, the evergreen hero of Hinduism, the lover of Radha, the cowherd-prince and the re-incarnation of Lord Vishnu. Mathura without Lord Krishna is like Bethlehem without Christ. Welcome to Brajbhoomi or Krishna-land. Leave Delhi for Mathura and on arrival visit various Hindu temples most of which are dedicated to Lord Krishna most prominent among them is the Dwarkadheesh temple. Please note that most of the temples are closed for visitors from 12 noon to 3 P. M, so in order to have darshans you must leave Delhi early in the morning. .
Vrindavan, around 15 km from Mathura, is a major place of pilgrimage, on the banks of Yamuna . Attracting about 5 lakhs pilgrims every year, it is noted for its numerous temples- both old and modern. Vrindavan is synonymous with the innocent mirth and child like playfulness of Shri Krishna.
Vrindavan
,
the dusty little town known for the temples, big and small, famous and remote strewn all over the place.