Chardham Yatra
Duration:
11 Nights/12 Days

Places to visit :
Badrinath - Kedarnath - Gangotri - Yamnotri.
Day 01: DELHI / HARIDWAR - 230 KMS / 06 HRS.
Start your Char Dham Yatra. Pick up from a central point /airport /railway station at Delhi. Proceed to Haridwar -the gateway of chardham Yatra; Arrive Haridwar in time to attend evening Ganga Arti at famous Har Ki Pauri.
Transfers to the hotel and Meet & Assistance on Arrival at The Hotel by ours representative for Holy Yatra briefing, Dinner & Night stay. Your host town is gateway of God; Haridwar means Gateway of Lord Vishnu and Hardwar, Gateway of Lord Shiva.
Today's Route - Delhi to Haridwar - 230 Kms/ 06 Hrs
Delhi ---- 19 kms ---- Ghaziabad ---- 24 kms ---- Modinagar ---- 21kms ---- Meerut ---- 31kms ---- Khatauli ---- 52 kms ---- Muzaffarnagar ---- 51kms ---- Roorkee ---- 32 kms ---- Haridwar
Route Remarks -
Merrut is your midway destination for en route refreshments & washroom facilities.
Sight of The Day - Evening Arti at Har Ki Paudi
Day 02: HARIDWAR / CHAMI, BARKOT 160 KMS / 07 HRS
After breakfast leave for Chami via Mussoorie. En route visit Kempty fall. Dinner and night stay at Chami.
Today Sightseeing:
Mussorie - On the outskirts of Mussorie, away from summer hill station rush, enroute stopover for refreshments & washroom.
Day 03: CHAMI/JANKICHATTI / YAMUNOTRI / JANKICHATTI/CHAMI( 70 KMS/3HRS DRIVE AND 5KMS/3HRS ON FOOT)
After breakfast proceed to Yamunotri (70kms drove/3hrs and 05 kms trek/3hrs one way , Here, one can cook rice by packing it in a cloth and dipping it in the hot water of the hot kund. Pilgrims take this cooked rice home as "Prasad". Here near the temple "Pooja" can be offered to Divya Shila, after taking bath in Jamunabai Kund's warn water and having "Darshan" of pious "Yamunaji" returning to Chami. O/N stay at Chami.
TODAY'S SIGHT -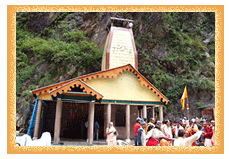 Yamunotri, First of The Chardham:
Yamunotri temple is dedicated to Goddess Yamuna. Yamunotri is the source of revered river Yamuna which originates from the Champasar Glacier lying 1 Km. Ahead of the shrine situated at an elevation of 3235 mts above sea level. The approach is extremely difficult and pilgrims therefore offer Pooja at the temple itself. Yamunotri was the home of an ancient sage Asit Muni.
Yamuna is the daughter of the Sun just like Yama who is considered his son. It is believed that Yama would not torment any person at the time of death who bathes in Yamuna, his sister
Surya Kund:
There are a Number of thermal springs in the vicinity of the temple, which flows into numerous pools. The most important of these is Surya Kund.
Divya Shila:
A rock pillar, worshipped before entering the Yamunotri Temple.
Day 04: CHAMII- / UTTARKASHI 100 KMS / 06 HRS
After breakfast visit local sightseeing Lakhamandal and after fresh up leave for Uttarkashi(via Radi) beautiful forest nice view Himalaya. Evening free for leisure & local attractions. Dinner & O/N stay Uttarkashi.
TODAY'S ROUTE -CHAMI--- 25---RADI--- [53] ---- DHARASU ---- [28] ---- UTTARKASHI
Route Remark - A short drive relatively, Dharasu is an ideal Tea - Break midway, the route does not have good washroom facility.
Today's Sight -
Lakhamandal-
Same day excursion from Chami, 10kms round trip. Historical place related to Mahabharata times.
Uttarkashi -
Uttarkashi is a small and beautiful town, situated between two rivers: Varuna and Ashi, whose water flow into the Bhagirathi from either side of the town. Elevated, at a height of 1588 metres, this little town is very similar to Kashi and Varanasi, in that it has the same kind of temples and ghats and likewise, a north or 'uttar' facing river. The major temple is the Vishwanath Temple, dedicated to Lord Shiva. Two other very important temples are located in the Chowk area. These are the Annapurna Temple and the Bhairav Temple. Once, it is said, there were 365 temples here. Hiuen Tsang referred to this place as Brahma Pura, while the Skanda Puran has recorded it as Varunavata. It is believed that in the second millennium of Kaliyug, Kashi will be submerged, and Uttarkashi will replace it as an important religious centre.
Day 05: UTTARKASHI/ HARSIL / GANGOTRI / UTTARKASHI 100 KMS / 04-05 HRS
With packed breakfast & post Tea/ Coffee leave for Gangotri early in the morning. En route stopover at Gangnani, a hot water spring. Post offering prayers & pooja darshan, stop en route at place of your choice for Lunch. Post lunch drive back to Uttarkashi, en route visit Gangnani. Overnight stay at Uttarkashi.
Today's Route -
UTTARKASHI ---- [46] ---- GANGNANI ---- [23] ---- HARSIL ---- [23] ----GANGOTRI - UTTARKASHI
Route Remarks - Gangnani is the hot water spring & good stopover. Maggi & Tea/ Coffee have emerged as big food at this stopover. Ganganai offers good panoramic view.
Today's Sight -
Gangotri, IInd of Chardham:
Gangotri temple is 18th Century temple dedicated to Goddess Ganga. It is located near a sacred stone where king Bhagirath worshipped Lord Shiva Ganga is believed to have touched earth at this spot. Accordingly to another legend, Pandavas performed the great "Deva Yagna" here to a tone the death of their kinsmen in the epic battle of Mahabharata. The temple is an exquisite 20 ft. high structure made of white granite.
Gangnani:
Further up on way to Gangotri, is the hot water spring at Gangnani, where one can have refreshing bath in the kund called Rishikund. There is a temple near the kund dedicated to the Sage Parashar, believed to be the father of Ved Vyas.
Day 06: UTTARKASHI / GUPTKASHI, 250 KMS/ 8-9 HRS
Leave very early in the morning for almost day long drive to Guptkashi. Enroute, your Lunch at Kirtinagar. On your drive you would pass through Ganga giving way to Tehri Dam (The Electro Hydro Project). Overnight stay at Guptkashi.
Today's Route -
UTTARKASHI ---- [90] ---- CHAMBA--(40) ---- PEEPALDALI ---- [30] ---- MALETHA ---- [4] ---- KIRTINAGAR ---- [6] ---- SRIKOT.-74kms---GUPTKASHI.
Or
UTTARKASHI ---- [40] ---- CHAURANGIKHAL--(60) ---- PEEPALDALI ---- [30] ---- MALETHA ---- [4] ---- KIRTINAGAR ---- [6] ---- SRIKOT.-74kms---GUPTKASHI.
Day 07: GUPTKASHI / KEDARNATH , 32KMS/2HRS & 14KMS/6-7HRS
Post your Early breakfast; leave by vehicle for Gaurikund and from their join other pilgrims for 14 kms trek of Kedarnath. On reaching Kedarnath, meet our representative at Kedarnath. Our representative would lead you to hotel & guide you through other logistics at these high altitude destinations. Evening darshan and Pooja at Kedarnath Temple. O/N stay at Kedarnath.
Today's Route
Guptkashi ---- [32] ---- Gaurikund ---- [7 kms trek] ---- Rambara ---- [5 kms trek] ---- Garudchati (Hanuman Gufa) ---- [2 kms trek] ---- Kedarnath
Route Remarks - Ideal stopover is at Rambara for Lunch, take a break at Garudchati to meet the sage, who lives here 12 months facing even extreme weather conditions.
TODAY'S SIGHT -
Kedarnath Temple, IIIrd of Chardham:
The present temple built in 8th Century A.D. by Adi Guru Shankaracharya lies adjacent to the site of an ancient temple built by Pandavas. The temple has a conical lingam - the main idol, a statue of Nandi - the celestial bull, a 'Garba Grah' for worship and a man dap for assemblies of pilgrims and visitors. The temple is more than 1000 years old.
Other Important Sights -
Shankaracharya Samadhi:
The Samadhi of Adi Guru Shankaracharya is located just behind the Kedarnath temple. It is said that after establishing four sacred Dhams in India, he went into his Samadhi at an early age of 32 years. The lake fascinates the visitors.
Bhaironath temple:
About half a kilometer away from Kedarnathji, a small temple is dedicated to Bhaironath. It is worshipped on the opening and closing day of Sri Kedarnath Shrine. Ii is believed that when Kedarnathji temple is closed. Bhaironathji protects this land from evil.
Day 08: KEDARNATH / RUDRAPRAYAG , 14 KMS TREK / 74KMS DRIVE/3-4HRS
After breakfast begin your downward journey of 14 kms trek to Gaurikund or by Helicopter arrived Phata and drives 20 km/1hrs to reach Triyuginarayan (Lard Shiva, Parvati Mairrage place & Triyuginarayan Temple) evening back to Rudraprayag . Overnight stay Rudraprayag.
Today's Route -
Kedarnath ---- [14 kms trek] ---- Gaurikund ---- [20]- Truyuginarayan -----(80kms/4hrs)----Rudraprayag
Day 09: RUDRAPRAYAG/ BADRINATH 168 KMS / 07-08 HRS
Morning after breakfast proceed to Badrinath via Joshimath, (Narsimha Temple, Sankaracharaya Math) Badrinath. Evening Darshan & Pooja at Badrinath temple. O/N stay at Badrinath.
Today's Route - Guptkashi-----166------ Joshimath-- [21] - Govindghat - [23] - Badrinath
TODAY'S SIGHT -
Badrinath, 4th Dham of Uttarakhand's Chardham & only original Chardham as proposed by Adi Guru Shankaracharya: Arti at Badrinath. Cradled in the twin Mountain ranges of Nar and Narayan is the holiest of the four main shrines - Badrinath along the left bank of river Alaknanda with the towering Neelkantha Peaks as the splendid backdrop. Once the spot was carpeted with 'badris' or wild berries and hence was famous as Badri van. Legend has it, when the Ganga was requested to descend to earth to help suffering humanity; the earth was enable to withstand the force of its decent. Therefore the mighty Ganga was split into 12 holy channels. Alaknanda was one of them that later became the abode of Lord Vishnu or Badrinath.
Badrinath ji sightseeing;
Narad Kund:
A recess in the river, near Tapt Kund, forming a pool from where the Badrinath idol was recovered.
Brahama Kapal:
It is a flat platform a few yards north of the temple and on the bank of river Alaknanda. It is an important place for shhradh ceremony or offering of pinds to ensure a heavenly place for dead ancestors or manes. It is said that offering pind here, the manes are permanently enshrined in heaven and no more pinds are to be done elsewhere ever afterwards. Legends have it that when Shiva chopped of the fifth head of Brahma, it got stuck to his trident. Lastly with the blessing of Lord Vishnu at Badrivan, the head of Brahma fell down from the trident at this place & hence the name Brahma-Kapal (head).
Sheshnetra :
It is a large block of stone between tow small seasonal lakes carrying an eye of "Sheshnag" The eye formation is quite natural, 1.5kms. away is a boulder having an impression of the legendary serpent, better known as the Sheshnag's eye, it is believed that the seshnag waits at this place patiently to accompany the lord on his reincarnation.
Mana Village:
Inhabited by an Indo-Mongolian tribe, it is the last Indian village before Tibet. The women of the village offer Choli to the deity on closing day of the temple each year.
Bhim Pul:
On the other side of Mana village, a massive rock forming a natural bridge, lies over the roaring Saraswati river. It presents a spectacular view of water thundering down through the narrow passage under the rock and is believed to have been placed there by Bhim, the second eldest among the five Pandava brothers.
Vyas Gufa (cave):
Near Mana Village, this is a rock-cave where Ved Vyas is believed to have composed the Mahabharata and the pauranic commentaries.
Day 10: BADRINATH /JOSHIMATH/RUDRAPRAYAG OR SRINAGAR, 158KMS/07-08HRS
Morning after breakfast Drive to Rudraprayag, overnight stay Rudraprayag or Srinagar.
En route visit
Today's Sightseeing -
Vishnu Prayag
which two river confluences Dhauli Ganga & Alaknanda
Karn Prayag
(confluence of river Pindari and river Alaknanda)
Nandprayag
(confluence of river Nandakini and Alaknanda River)
Badrinath ---- [44] ---- Joshimath ---- [114] ---- Rudraprayag-------(40)----Srinagar.
Route Remarks - Stopover at Birhi for enroute refreshment option, facility of washroom is available here.
Day 11: RUDRAPRAYAG OR SRINAGAR /HARIDWAR 160 KMS / 05 -06HRS
Morning after breakfast drive for Haridwar.. Evening Arti Pooja at Parmath Niketan Ghat. O/N stay at Haridwar.
Today's Route -
Rudraprayag-(40)-----Srinagar ---- 37 ---- Deoprayag ---- 75 ---- Rishikesh ---- 23 ---- Haridwar
Today's Sight -
En route
Deoprayag
two rivers confluence Bhagirathi and Alaknanda River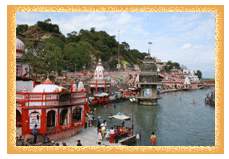 Day 12: HARIDWAR / DELHI 215 KMS / 07 HRS
Post early breakfast; proceed to Delhi en route lunch, Drop at Delhi City. Come back to your world to start a new rhythm of life with energy of divine & peace.
COST OF THE PACKAGE (PER PERSON)
| | | | | | | |
| --- | --- | --- | --- | --- | --- | --- |
| Twin Sharing | Single Sharing | Up to 12 Years | Above 12 Years | Meal Plan | Category | Ex |
| Rs. 19,999.00 | Rs. 29,999.00 | Rs. 13,999.00 | Rs. 15,999.00 | APAI | Regular | Delhi |
| Rs. 17,999.00 | Rs. 27,999.00 | Rs. 12,599.00 | Rs. 14,399.00 | APAI | Regular | Haridwar |
*The Chardham Yatra dates vary as per the opening and closing dates of Shrine
PACKAGE COST INCLUDES
| | |
| --- | --- |
| | Accommodation on twin sharing basis. |
| | Breakfast, Lunch & Dinner as per the itinerary. |
| | All Transfers & sightseeing as per itinerary by Non A/c Indica /Qualis /Innova /Tempo Traveler as per the size of the group (Delhi to Haridwar & Haridwar To Delhi in A/C & Non A/C in Hilly area). |
| | All Inter-State Taxes, Toll Taxes, Driver Allowance & Parking etc. |
| | Services of Tour Escort - (for strength up to 04 persons, Driver cum tour escort). |
| | All prevailing applicable taxes. |
PACKAGE EXCLUDES
| | |
| --- | --- |
| | Air fare / train fare. |
| | Any meals other than those specified in 'Cost Includes'. |
| | Expenses of personal nature such as tips, telephone calls, laundry, liquor etc. |
| | Any other item not specified in 'cost includes'. |
| | Porterage during trekking. |
| | Ponies / Dollies during trekking. |
| | Entrance fees during sightseeing. |
| | Destination Guide. |
| | Any item of personal nature like Laundry, Telephone,, tips, donations at temples, extended stay or travelling due to any reason. |
OTHER SUPPLEMENTS
| | |
| --- | --- |
| | Helicopter Service- Round Trip- Rs.7500/- & One way Rs. 4000/-. |
| | Abhishek Pooja at Kedarnath - Rs. 3500/- for 4pax & Badrinath Mahabhishek pooja- Rs. 4500/- 2pax. |
| | Pony charges- Rs. 750/- per head , Yamunotri & Rs. 1500/- per head in Kedarnath trek (Approx). |
| | Pony charges Rs. 1500/- per head in Kedarnath trek (Approx). |
| | Palki Charges- Rs. 3500/- per head in Kedarnath & Rs. 2500/- per head in Yamunotri (Approx). |
| | Cable Car charges. |
HOTELS & CAMPS INCORPORATED
| | | | |
| --- | --- | --- | --- |
| Day | Destination | Regular Package (Hotels / Camps / Resort) | Deluxe Package (Hotels / Camps / Resort) |
| Day 01 | Haridwar | Periwal House/The Urmi | Bhaj Govindam/Hari Heritage |
| Day 02 | Chami | Kalindi Resort /Yamunotri Resort | Kalindi Resort /Yamunotri Resort |
| Day 03 | Chami | Kalindi Resort /Yamunotri Resort | Kalindi Resort /Yamunotri Resort |
| Day 04 | Uttarkashi | Kalindi Kunj/Hotel Bharti | Hotel 5 Element/Kalindi Kunj |
| Day 05 | Uttarkashi | Kalindi Kunj/Hotel Bharti | Hotel 5 Element/Kalindi Kunj |
| Day 06 | Guptkashi | Luxury Camp/Hotel Vishwanath | Luxury Camp |
| Day 07 | Kedarnath | Panjab Sindh or similar | Panjab Sindh or similar |
| Day 08 | Rudraprayag | Shrikrishna Hotel | Monal Resort or similar |
| Day 09 | Badrinath | Krishna Pranami | Hotel Dwarikesh/Snow Crest |
| Day 10 | Rudraprayag/ Srinagar | ShriKrishna Hotel/IVY Top Resrot | Monal Resort/IVY Top Resrot |
| Day 11 | Haridwar/Rishikesh | Periwal House / Welcome Hotel | Bhaj Govindam/Hari Heritage or Rishabh resort |
| Day 12 | Delhi | | |
HIGHLIGHTS
| | |
| --- | --- |
| | No Night Travel. |
| | We do not accommodate our Guests in Dormitories / Dharmshala. |
| | Sumptuous, Hygienic and pure vegetarian food as per regional taste and palate. |
| | Neat & clean hotels with quality service. |
IMPORTANT NOTES
| | |
| --- | --- |
| | All extras (F&B and any other services) availed by the customer will be on direct payment basis. |
| | In case of odd number groups, the extra person shall be accommodated in the same room with an extra bed / mattress. |
| | The above rates are applicable to the Indian Nationals only. |
| | Any Meals, services not utilized, partly utilized are non refundable. |
| | Kedarnath, Panjab Sindh triple or 4shring basis in a group. |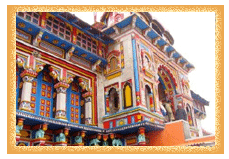 The customer has to bear the proportionate tour cost in case of extended stay or travelling due to any reason.
We shall not be responsible for any change in the itinerary due to landslides, flight Cancellations, weather conditions or any unforeseen circumstances. The additional cost incurred will be in addition to the cost.
TRAVEL TIPS
PHOTOGRAPHY
Still cameras, home video cameras are allowed in Himalayas but only inside the temple not allowed.
COMMUNICATION
All the places to make any S.T.D/I.S.D calls and please carry if you have any BSNL Mob. Number, it works whole trip, Kedarnath & Badrinath very good connectivity Reliance mobile numbers. Some times, please be informed that it may be difficult at times to get the connection. If any urgent messages have to be sent to any of the participants, then please contact us at Haridwar numbers.
RESPONSIBILITY
All arrangements within Chardham Yatra, reserves the right to change itineraries without prior notice, depending on the weather and road condition.
FITNESS
Please start to get in shape NOW!!! A good 15 minutes walk, jogging daily, stretching and regular exercise should put you in the right shape (Concentrate on your heart & legs - Aerobics). Porters will be carrying the bulk of your equipment, but it is recommended that you bring a good day pack and are fit enough to carry snacks, filled water bottle/small scissors and knife, waterproof matches, safety pins, Thermometer, Lighter, Dehydration salt (electoral) packets, Neoprene Powder and cream. Heat balm for muscles/joints, Vicksinhaler/vapourub, Chopsticks. Dry Fruits/snacks, camera, Film, Map, Jumper, Sun Hat, First Aid Kit, Light weight Rain Gear, Extra Cloth etc.
ATTITUDE SICKNESS
This is an environment related condition that can effect anyone who ascends too rapidly to high elevations without acclimatizing properly. Suggested to read any book on trekking, which has a chapter on this, and also consult your doctor.
HEALTH CONSIDERATION
All Tourist We do ask you to bring along your own small first aid kit (available at Pharmacies). Some of the items we ask you to bring in the kit are: Antiseptic cream or Wound disinfectant: Iodine and tube-squeeze cream. Foot care and Blister Treatment, band-aids, adhesive roll & strips, gauze pads, moleskin. (please bring ankle high boots to avoid muscle sprain.)
ANTIBIOTICS
(Triethoprim/sulfamethoxazole - Bacterium DS or Septran DS
ANTI - INFLAMMATORY
Avil, Brufen or Mortin. Aspirin / Tylenol or general painkillers. · Strong sunscreen oil, skin antibiotic cream.
INSURANCE
We recommend that you insure yourself against sickness, EMERGENCY RESCUE, accident hospitalization, etc.. We are not liable and responsible for any damages or extra expenses that may arise from mishaps and the loss of their belongings during the pilgrimage.
CLOTHING'S
Clothing's for both extremes of climate and temperature. While driving to Chardham Yatra, it will be warm inside the vehicle and light clothing will be required, but as soon as you step out of the vehicle, warm clothing will be required to keep off the cold winds of the Himalayas. Evening will be generally cold and warm clothing will be required We recommend that you bring along the following clothing's and accessories with you:
| | |
| --- | --- |
| | Down Jacket - one |
| | Warm thick pullover - One |
| | Warm thin pullover - One |
| | Warm pants - Two |
| | Light loose cotton pants - Two |
| | Warm windproof jacket - One |
| | Cotton full sleeve T-Shirts - Four |
| | Thermal under pants/long - Two |
| | Thermal vest / warm full T-Shirts - Two |
| | Rain coat with hood/ Poncho (should be roomy) - One |
| | "Broken - in" pair of ankle high walking boots & one extra shoe laces.Light tennis shoes & light rubber sandal. |
| | Warm woolen socks-4 |
| | Large cotton or silk scarf-One |
| | Warm gloves. |
ACCESSORIES
| | |
| --- | --- |
| | Personal First Aid Kit |
| | Toilet kit, Nail Clipper, Scissors |
| | Flash Light with extra batteries (3 Set) |
| | Sun Glasses, Sun Hat, Monkey Cap, Woolen Gloves |
| | Water bottles- unbreakable (Min 1 liters capacity) can be purchased in Haridwar |
| | Note book, Pen, Pencils |
| | Camera and film and extra batteries for electronic camera |
| | Binoculars recommended |
| | Rain Gear-Your raincoat should be roomy and have a water proof hood. |
| | Pocket knife , Sewing kit, Buttons, Cigarette lighter, towel, bags( a few of each size strong) dust masks, strong sun |
| | Cream and chopstick, Moisturizers, Money pouch/belts etc. |
| | Water purification tablets |
| | Walking stick- Can be purchased in Gourikund/Hanumanchatti |
| | Washing Kit |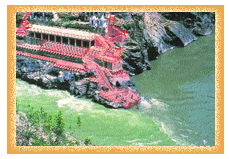 One oxygen cylinder on rental (50 Rs.) per day with mask will be provide you if required. Please note that oxygen is to be used only in case of emergency.
Briefing and orientation:-There will be a briefing of the programme on the day of your arrival in Haridwar. It is very important that all participants attend this briefing. (Group departures)
DEPARTURE DATE
May 2011-
4, 7, 10, 13, 16, 19, 22, 25, 28, 31
June 2011-
3, 6, 12, 15, 18, 21, 24, 24, 27, 30