Kedarnath Yatra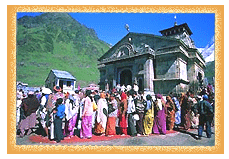 Amidst the dramatic mountainscapes of the majestic Kedarnath range, stands one of the twelve 'Jyotirlingas' of Kedar or Lord Shiva. Lying at an altitude of 3584 mts. on the head of river Mandakini, the shrine of Kedarnath is amongst the holiest pilgrimages for the Hindus.
Sightseeing at Kedarnath :

Chopta :
Situated on the Gopeshwar Ukhimath road about 40 km from Gopeshwar at an altitude of about 2500 mtrs above sea level, Chopta is one of the most picturesque spots in the entire Garhwal region. It provides a breathtaking view of Himalayan ranges, surrounding it is the Deoria Tal.
Panch Kedar :
The five most important temples of Lord Shiva in Garhwal Himalayas.
The Kedar Massif :
This is an outstanding massif formed by the three major mountains.
Bharatekuntha :
At 6578 mtrs, Bharatekuntha is connected to Kedarnath to the East, by a long and dangerous avalanche ridden ridge. At 6000 meters it looks stunning and has several glacial flows, one of which is the Mandakini glacier.
Shankracharya Samadhi :
It is believed that after establishing the Chardham Shankracharya went in to samadhi here. Badrinath is a must visit. It is almost 41 km from Kedarnath (direct distance).

Best Season to Visit :
Temple is open only for six months every year. Time to visit is usually May to November (because of the unpredictable climate it is always beneficial to gather the latest weather report)
Reaching Kedarnath:
The Kedarnath shrine, at an altitude of 3,581 mtrs. It is a 14 kms trek from Gaurikund. You can take a bus or taxi from Rishikesh via Rudraprayag and Chamoli to reach Chopta, the base camp for the trek to Tungnath. Another approach is via Ukhimath and Doggalbitta on the Badri-Kedar route. From Chopta, a 3.5-km trek brings you to Tungnath Temple.

Air : Reach Delhi and take a train or a bus route to Rishikesh.

By Train : Nearest railway station is at Rishikesh (297 kms) from Kedarnath.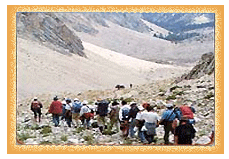 Road : There are no direct bus routes to Kedarnath. There are deluxe and ordinary bus services to Rishikesh from most parts of Uttar Pradesh, Delhi and other towns in Garhwal. From Rishikesh one can take a bus and thereon take a trek route.
Trek Route To Kedarnath : Kedarnath is 41 mile trek from Badrinath. However by road one has to drive 220 miles and undertake a 19 kms. on foot.

Shopping In Kedarnath :
Ornamental brass work is a major attraction in the local markets.One can buy woollens and local handicrafts.